Peter and Claire Cooper from Fumapest cover a lot more ground than your average pest controllers. 
Originally from Gundagai, Peter first built a successful business in Canberra before selling that to move to Victoria. Now the family-owned business's services are in great demand all over Melbourne and the rest of the state. But it's only this year – more than 40 years after he started his career in pest control – that he and the rest of the Fumapest team have done their customary excellent work as far afield as Far North Queensland.
Fumapest achieved a second ground-breaking first on the same job. They relied on their trust in the BASF team and BASF products and switched from their previous baiting system to Trelona® ATBS.
The Coopers specialise in termite treatments and are very loyal to the products they have learned to trust. They've been using Termidor, for instance, since it was first introduced.
"80% of our work is termites," Peter says. "I think we'd probably do more termite treatments in Victoria than almost anyone else. We've done thousands of Termidor jobs over the years and not had one recall, so we must be doing something right!"
The Coopers had been happy with the previous baiting system they were using and weren't looking to change when Edwina Gadsby, the BASF Southern Sales Manager, asked whether they would consider trying Trelona ATBS.
 "Pete likes what he likes to use," Claire remembers telling her. "It will take a lot of persuading."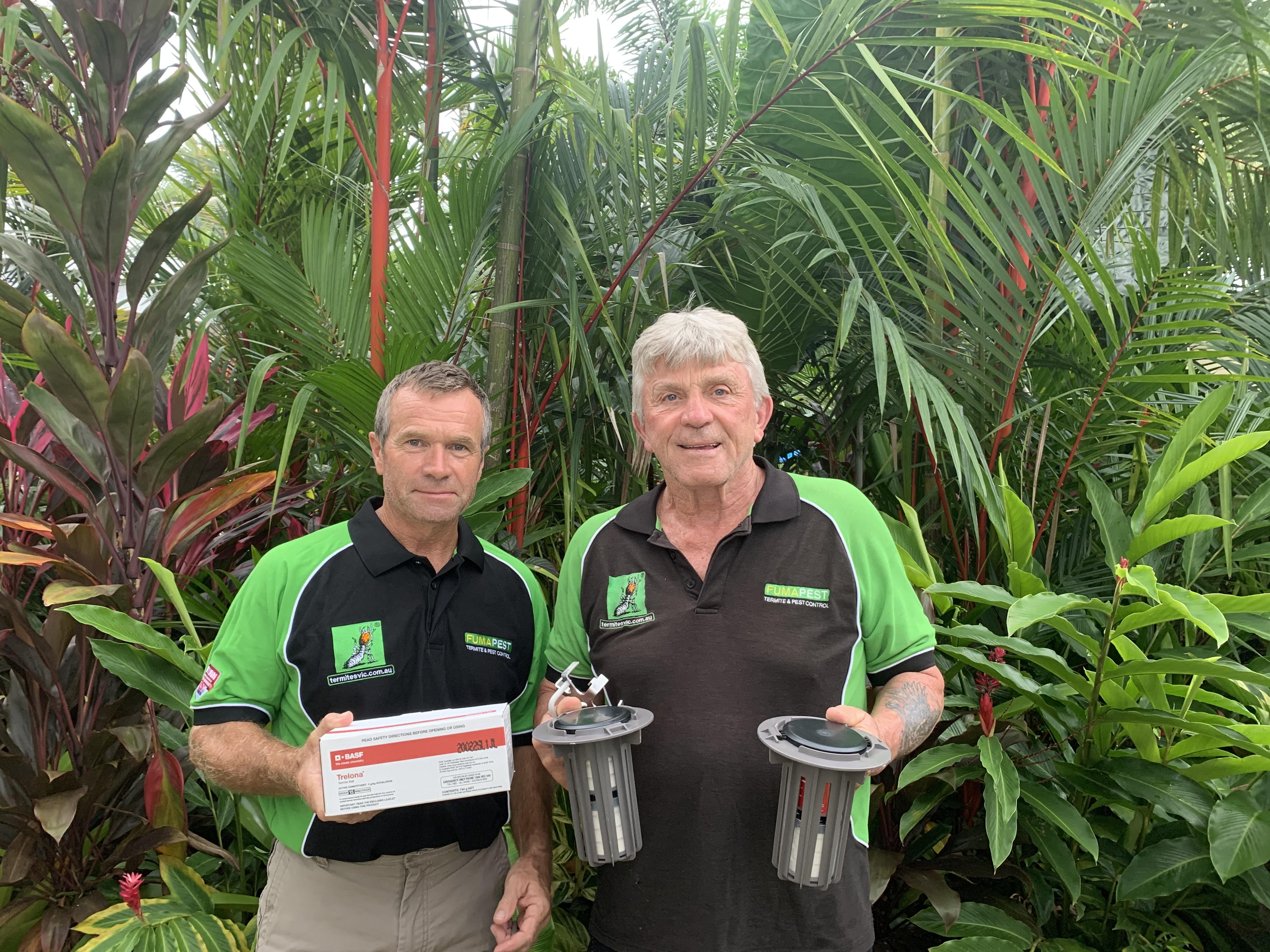 Pictured (from left): Graham Waldron and Peter Cooper 
So Edwina took advantage of last year's first lockdown to have some long phone conversations with the Coopers before she could eventually present the case for Trelona ATBS in person. Once she did get the chance to make an appointment and show them its advantages, they were quickly convinced.
Of course their strong relationship with BASF and its products gave Edwina a head start.
"I was very confident it would work," Peter explains. "Anything BASF brings out is a good product." 
Other companies trying out a new treatment might just dip their toes in the water before committing. Not the fearless Fumapest crew. Their first try-out of Trelona ATBS in Port Douglas involved installing over 900 'active on application' bait stations around luxury villas at the Sheraton Mirage Resort.
The Coopers have an extra interest in ensuring that their top-level treatment works brilliantly, since they own two of the Port Douglas villas. The resort buildings are now thirty years old and it was the start of some renovations that revealed "a lot of termite damage and some live activity," prompting the committee to investigate protection options.
In the end, they found experts already on their doorstep.
Fumapest prefer to do a complete in-soil Termidor treatment, but often back it up with bait stations outside the protected zone as extra insurance and an early warning system. "Some properties have large trees, for instance, so we might set baits around them to see if any termites turn up," says Peter. "It's good to have two different treatments complementing one another."
For the Mirage contract, the committee had already specified baiting. "Everyone was very concerned about the environment," Claire says. "There's so much beautiful wildlife everywhere up there." While the Coopers don't see in-soil treatment as an environmental issue, they agree that Trelona bait stations have minimal impact. Even when, as in this case, they are used in big numbers to control the voracious Mastotermes darwiniensis termites that can cause huge damage so quickly.
"We were worried about the Mastotermes up there," Peter says. "So we installed the stations with three-metre gaps, all double-loaded with Trelona, and added an extra hundred around all the gumtrees." 
The various sections of the resort have separate management committees and not all of them have signed up for termite treatment yet. If, as the Coopers expect, the others come on board, the total number of Trelona bait stations installed will be over 2,000. Luckily, Fumapest have found them easy to install and they're inconspicuous.
"I'm rapt with the stations," Peter says. "The installation was perfect. Absolutely perfect."
"And they're nice and discreet," adds Claire.
Most importantly, the Coopers – and their clients – had already seen within a few months how well the stations work. 
"We had three early hits from three different species and Trelona's knocked them all out," Peter says.
The three species were Mastotermes, Coptotermes and Nasutitermes.
"When I first went back we'd had a hit in the West Wing with Coptotermes. They were still fairly active, so I put the lid straight back on and added two more stations nearby. I know it's overkill, but it's just what I do. Six weeks later half the bait in the original station was gone but there was no activity and the other stations were untouched. I've been back two or three times since then and they're all gone." 
The same pattern has been repeated with the other stations that were hit, and Peter is confident that Trelona has done a thorough job: "It's definitely knocked out those three nests for sure."    
Peter's pretty relaxed about the termite pressure that's been confirmed. "There are 400 acres of gardens," he says, "so it'll be a continuous thing. The hits will keep coming pretty regularly I'd imagine."
Knowing the label allows the flexibility of inspections every three to six months, the Coopers can still rely on the reduced number of visits to keep the Trelona ATBS 'active on application' system more cost-effective in the long-term than old-fashioned monitoring stations. And, much as they love visiting Port Douglas, the longer intervals are also pretty handy when each inspection involves a 5,000-kilometre round trip!

Visit the Fumapest website